The U.S. housing market has certainly shifted over the past several months, and although we hate to sound doom and gloom, we must recognize the current conditions homebuyers and sellers face. So is this the new normal? It's looking very likely. Of course, different regions vary from the broad national trends. Take a look below at the Local Lowdown for in-depth coverage of your area. As always, we will continue to monitor the housing and economic markets to best guide you in buying or selling your home.
The Big Story Data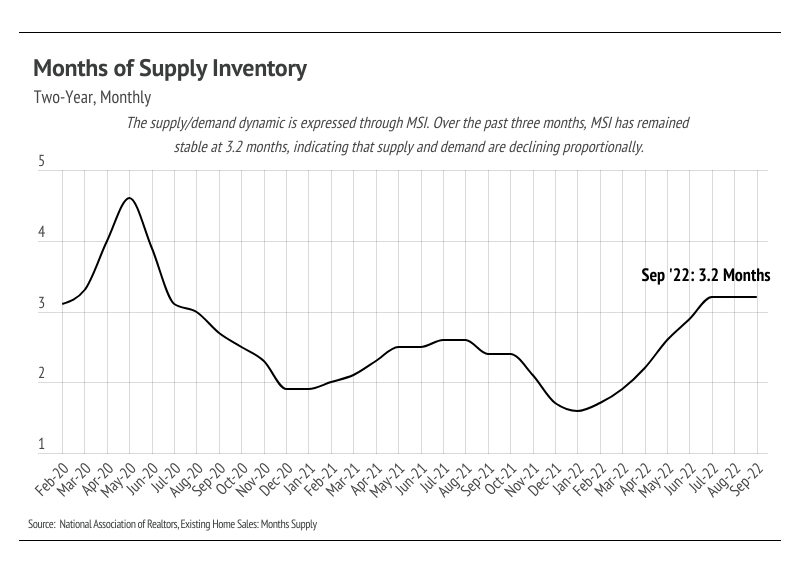 The Local Lowdown
San Francisco's housing market is experiencing a period of little to no growth, which is common after rapid gains like we saw in 2020 and 2021.

Sales rose as new listings declined, a trend that will likely continue to drop inventory further as we enter the holiday season.

Months of Supply Inventory dropped in October, implying that the single-family home market moved back toward a sellers' market, while the condo market still favors buyers slightly.
Note: You can find the charts/graphs for the Local Lowdown at the end of this section.
_________________________
Prices may contract further before reversing
We have enough data to show that the housing market in San Francisco is cooling substantially after one of the hottest real estate markets in history. Of course, you don't have to be a real estate expert to realize that when interest rates shoot up, fewer buyers will be in the market, which generally puts less upward pressure on prices. Single-family home prices have declined 22% from the March peak, but having risen 35% in the 18 months before the peak, they're still up 6% over the past two years. Condo prices rose in September and October after a 24% decline from the April high, bringing the total price appreciation over the past 24 months to 4%. Moving forward, prices will likely contract slightly more through the rest of the year, which is typical during the slower holiday season. Home prices in San Francisco grew at an unsustainable rate in 2020 and 2021, and a contraction is a normal response to that sort of growth. We are now entering a stage of slower longer-term growth — but still growth. In the short-term, prices may come down a little more, however. Real estate has shown itself to be one of the best investments in recent history and is, on average, the largest store of wealth for an individual or family. Price appreciation will likely move to a more normal growth rate of around 5-6% in the coming years, which makes for a much healthier market than what occurred in 2020 and 2021.
Sales increase while new listings decline, dropping inventory further
Single-family home and condo sales rose 13% month-over-month, while new listings declined significantly, down 44% from September to October. We expect sales to remain slightly elevated in November and December, while new listings decline, dropping inventory lower. Both sales and new listings have been depressed in 2022. Now that we're through most of the year, we can see just how significant sales were in 2021 by comparison, especially in the summer months. From May through September of last year, 2,815 single-family homes and condos sold. During the same period this year, 2,051 homes sold, a 27% decline. Far fewer new homes have come to market in 2022, and the rising rate environment has dropped demand as well. We can tie new listings not only to supply, but also to demand, because sellers are often buying, too. Softening demand has brought the market closer to balance despite declining inventory.
Months of Supply Inventory implies a balanced market
Months of Supply Inventory (MSI) quantifies the supply/demand relationship by measuring how many months it would take for all current homes listed on the market to sell at the current rate of sales. The long-term average MSI is around three months in California, which indicates a balanced market. An MSI lower than three indicates that there are more buyers than sellers on the market (meaning it's a sellers' market), while a higher MSI indicates there are more sellers than buyers (meaning it's a buyers' market). MSI has trended higher (from a sellers' market toward balance for single-family homes and from balanced to buyers' for condos) since the spring. Despite a less-favorable economic environment, the drop in inventory and increase in sales caused MSI to fall in October, a trend that will likely continue through the winter.
Local Lowdown Data
If you are interested in selling, buying or just curious about the
San Francisco and Bay Area real estate market, please give me a call.
We are here to help you and anyone you care about.