San Francisco is not only one of the most beautiful places to live in the world, but it also boasts some of the richest histories with roots dating back even farther than the United States itself! One of San Francisco's most beautiful neighborhoods, Mission Terrace, is no exception. But what makes Mission Terrace so special anyway? And why is it called a "terrace" when it sits in a valley? Well, one definition for "terrace" is – a leveled surface built into the landscape for agriculture…and that's where this story gets interesting.
The idyllic neighborhood of Mission Terrace wasn't always dotted with adorable homes and convenient streetcar stops. Before the citizens of San Francisco would call it home, the area where Mission Terrace sits was farmland, operated by Italian and French truck gardeners who lived humbly on the rented land. Mostly known at the time for its expansive broccoli crops, the land was surveyed for neighborhood construction by the Baldwin & Howell Company all the way back in 1911! The dream? Build a beautiful neighborhood filled with affordable houses that would reignite the real estate market in the city!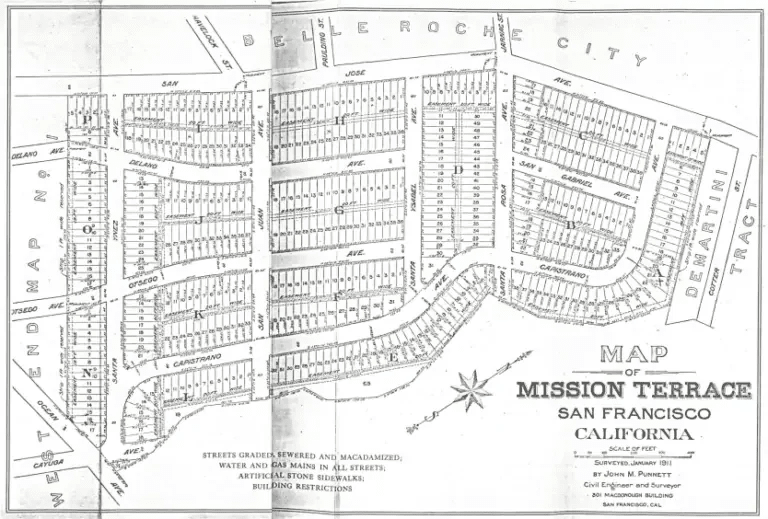 1911 Map of Mission Terrace Lots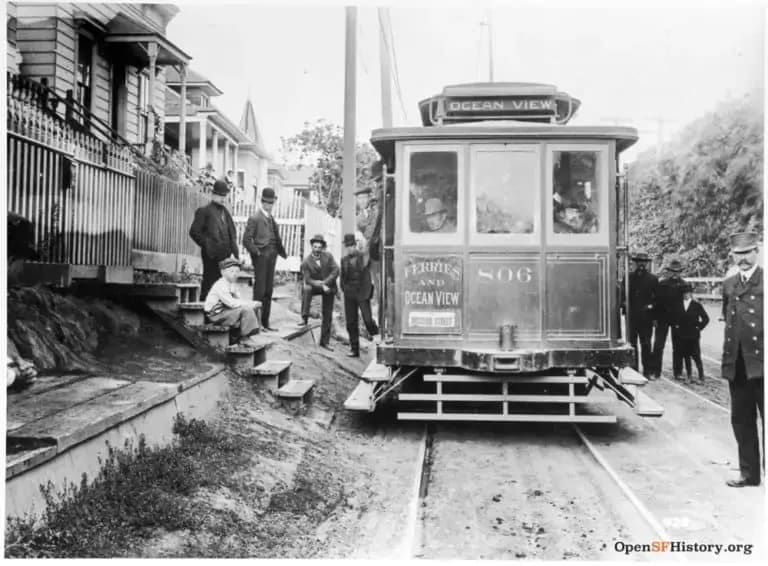 Even now, many residents of Mission Terrace can catch a cable car right outside their front door! A century ago, this meant that workers without personal transportation could work in the city without living directly on top of one another!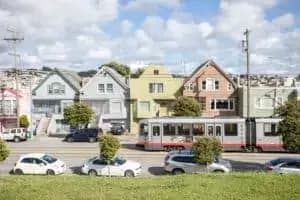 Many of the homes in the neighborhood remain as they were built almost 100 years ago, though the amenities have changed a bit. Even the original neighborhood clubhouse still stands, though it is now a private residence.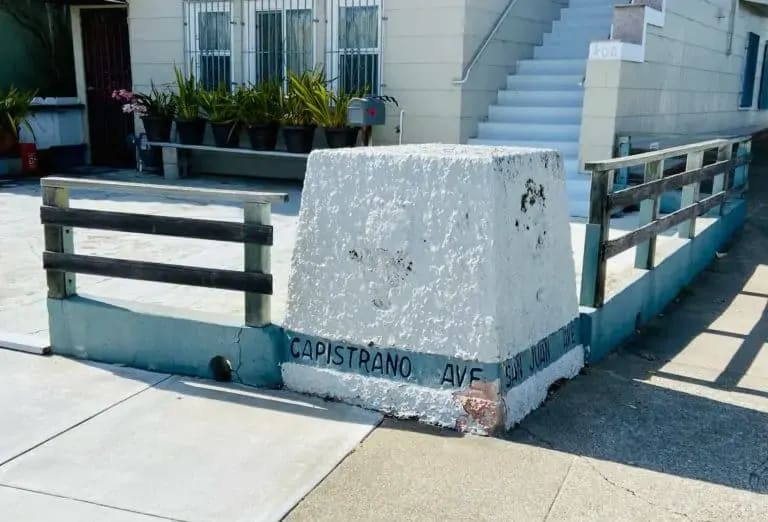 Poor record keeping and quick development mean that Mission Terrace is not without its secrets and mysteries. Ever noticed those stone monuments? They were erected sometime during the original development of the land, and many can still be seen on street corners in the neighborhood. However, it's anyone's guess as to how many there actually were. Records and photographs seem to be at odds, with many photos suggesting that more existed than stand today. Similarly, some are outfitted with a ball and chain. I guess they were worried about the stumps getting away.
Back in the roaring 20s, the former broccoli farms of Mission Terrace were some of the hottest and most affordable spots to live in San Francisco. In that regard, not much has changed! The neighborhood is still bustling with families old and new, with many schools within walking distance from anywhere in the valley. Hidden gems, like small family-owned shops, restaurants, and businesses dot the roadways, and you'd be hard-pressed to visit the area without seeing somebody getting their cardio in on the picturesque streets that seem to beg you to explore! As though by design (because it was absolutely by design), Mission Terrace was and continues to be one of the most comfortable places in the Bay Area to call home.
_________________________
Want to learn more about Mission Terrace or any other San Francisco neighborhood?
Call us. We're here to help you and anyone you care about.
_________________________